DONALD HILL MUNRO
TABLE HOCKEY INVENTOR
Toy hockey games have been part of the Canadian scene since the days of the Great Depression. While these games can be divided into several categories (including board games, magnetic hockey, air hockey, bumper hockey and knock hockey), the image that usually comes to mind when one thinks of table top hockey is that of a miniature ice rink with players mounted on small spikes spinning and moving with the twist of their steel rods.
The earliest type of these mechanical hockey games was built by Donald H. Munro, Sr. in his Toronto home in 1932-33. Made of wood and scrap metal found in his neighborhood, Munro built his first game as a Christmas present for his children at a time when he could not afford to buy gifts. Soon after, Munro built a handful of these games on consignment for the Eaton's department store in Toronto . They turned out to be an instant success. These early games, referred to as "the wooden game" by collectors, were produced every year until 1955. During this period of 22 years, many improvements were made in the playing quality and appearance.
Due to their size (about 14 by 36 inches), the early Munro wooden games were sold mainly in department stores and through mail order catalogs, though occasionally they would be carried in sporting goods and hardware stores. The games sold for between four and five dollars during the 1930s. The first recorded price was listed in the 1939-40 Eaton's Fall & Winter Catalogue where the Munro Standard Model was advertised for $4.95.
In the 1940s, the Munro Standard Model was expanded to include a DeLuxe version where the ball would roll out of the net after a goal and into a small cup mounted at each end of the game In 1945-46, Munro's partner, Stewart Molson Robertson, manufactured games in Rochester, New York under Munro's American patent, but despite the popularity of the games in Canada, the venture proved unsuccessful in the United States
The first of the modern-style games (and the challenger that finally ended Munro's wooden era) was introduced by the Eagle Toy Company of Montreal in 1954. Eagle's National Hockey Game was endorsed by the Montreal Canadiens and was an immediate success for several reasons. It was the first Canadian game to feature players printed in color on flat tin cutouts shaped like real hockey players who stood on a surface that resembled ice. Eagle's game was decorated with team pennants from the NHL and was the first Canadian game to feature metal rods that allowed its players to pivot a complete 360 degrees. The Eagle game measured 16" x 36" and sold for $10.95. Soon, both Munro and Eagle were issuing similar games that not only had rods to allow the players to spin but also had slots that let them slide up and down the ice surface. From that point on, Munro and Eagle produced nearly all of the hockey games sold in Canada and the United States . Over the years, Munro and Eagle were the undisputed leaders in designing and creating models that year after year became more realistic in their appearance.
The televising of NHL games during the 1950s and the league's expansion in 1967 greatly enlarged the North American market for table top hockey games. To meet the rising demand, both Munro Games and Eagle Toys were sold to U.S. companies in September of 1968—Munro to Servotronics and Eagle to Coleco.
The rebirth of table top hockey games has made the collecting of these games (both old and new) a popular hobby. For both the serious and casual collector, these games often bring back many vivid childhood memories from finding a hockey game under the tree at Christmas to picking out favorite teams, playing "seasons" or tournaments for the miniature replica Stanley Cup, or simply arguing about whether or not the puck went in! Many parents today watch their sons and daughters glued to a monitor while they play video or computer games and feel sad to see their children miss out of the marvelous and dynamic interaction of the old mechanical hockey games.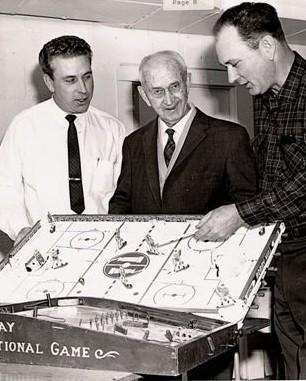 This photo was taken in the Munro Games Burlington Factory on February 22, 1967 with a 1935 model in the foreground and a 1967 Bobby Hull Game behind.
L to R: Donald H Munro Jr.; Donald H Munro, William M Munro.
---
Text is taken from "The Complete History of the Most Realistic Mechanical Sports Game Ever Devised" posted on a web page by Steve Farar. The full account may be found at: http://tablehockeygames.com/frmhist.htm
See also the blog on http://www.bestairhockeytableguide.com