"Dancers aren't made of their technique, but their passion."-Anonymous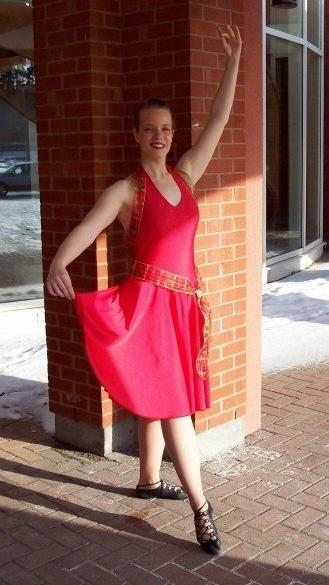 Lindsay Munro de Leeuw is the daughter of Barbara Munro and Martien de Leeuw of Ottawa. One summer, at the age of six, Lindsay attended the Maxville Highland Games and after watching the highland dancers on stage announced that she wanted "to be one of those"! She began lessons with Gillian Macdonald that fall and hasn't stopped dancing since!
Under Gill's guidance, Lindsay has danced and competed for almost twenty years. In that time she has been fortunate to have opportunities to compete across Canada, the United States, the Netherlands, Scotland and Australia. Over her career, she has also been a guest performer at the Stone Mountain Highland Games in Georgia; the National Arts Centre in Ottawa; and most notably, at the prestigious Edinburgh Military Tattoo in Scotland. As part of the Canadian Highland Dancing Team, a group of champion dancers chosen from across Canada in 2002, Lindsay was given the honour of performing for Her Majesty Queen Elizabeth II and H.R.H. Prince Philip, as part of the Golden Jubilee Celebrations.
In 2004, Lindsay was awarded a Clan Munro-USA Scholarship, and at that time her goal was to further expand her experiences in highland dancing by obtaining her Scottish Dance Teachers' Alliance (S.D.T.A) Membership, a qualification that would allow her to teach dancing and be an active member of the S.D.T.A. and ScotDance Canada. In the midst of pursuing a Masters degree in Canadian Studies at Carleton University, she realized her goal by passing her exam "with distinction". Seeking to instill a love of highland dancing and Scottish culture in aspiring young dancers, Lindsay began teaching at the Glebe Community Centre. She recently attended the 2006 "World of Highland Dancing" professional conference in Las Vegas, and was then invited to travel to British Columbia to conduct an intensive three-day workshop for highland dancers of all ages.
Since winning the Clan Munro-U.S.A. Scholarship, Lindsay has maintained her involvement in competitive highland dancing, despite the challenges of completing two university degrees, one away from home. In 2005, she traveled to Antigonish, Nova Scotia to compete at the ScotDance Canada Championship Series, and placed 2nd in the choreography event. That same year, after returning from a trip to Scotland, she placed 1st at the New Hampshire Highland Games. The following year, she competed in three events at the 2006 Ottawa choreography competition, placing 1st across the board. During that summer she successfully competed in Calgary, Alberta, bringing home five medals in both individual and team events, and then went on to win 2nd at the United States Inter-Regional Championships (USIR) choreography competition, and later, the overall trophy for her age class at the Glengarry Highland Games in Maxville, Ontario.
All of these awards and successes might seem like enough for any young person, but for Lindsay, 2007 promises to be one of the most exciting years yet! Fulfilling a childhood dream, she is thrilled to have been offered the position of Principal Instructor of Highland Dancing at the College of Piping and Celtic Performing Arts of Canada in Summerside, Prince Edward Island. The only year-round institution of its kind in North America, the College seeks to actively promote and preserve Celtic culture and heritage, and to serve as a training ground for aspiring performers in the traditional Celtic disciplines. Beginning this summer, Lindsay will be teaching highland dancing to over fifty students of all ages, as well as directing the College dance company and choreographing for daily shows held for tourists in July and August. The College is also considered to be a leader in Celtic festival and event promotion and as such, Lindsay will have many opportunities to apply her knowledge from an undergraduate degree in Sport Management. In her role, she will be responsible for assisting in the coordination of the highland dancing championships, workshops and performances, as well as the annual Highland Games and Celtic Festival.
Over the years, Lindsay's whole family has delighted in watching her embrace her Scottish culture with an infectious enthusiasm. Now as she prepares to embark on the next chapter of her highland dancing career, they take pride in knowing that she will be giving back to a community that has given her so much, and they look forward to watching a new generation of young dancers, inspired by Lindsay to celebrate their Scottish heritage and carry on the traditions!

© 2010 The Clan Munro Association of Canada