Slŕinte maith, h-uile latha, na chi 'snach fhaic!
(Good health everyday, whether I see you or not!)

Dear Cousins,

It's cold up here in Ottawa – and I'm darn sure it's none too balmy where you are.
This 'fuar' weather gives us the chance to reflect and reminisce. It's a time for wine, whisky and sentiment – an all too short hiatus in the hectic lives we lead.
With the Clan Gathering taking place in Halifax next summer, I've been trying to think of ways to recruit more support for the Clan Munro, particularly in the Eastern Provinces. One thought is to write emails to individual Munros, inviting them to join the Clan Munro of Canada. The incentive would be the Clan Gathering, August 30th to September 2nd, 2018. If you can spend a couple of hours of your time or if can conjure up a creative and inexpensive way for us to recruit members to the CMAC, please email me at johnwmunro@yahoo.ca
An item on the Scotsman newspaper website caught my eye – mainly because of the 'Munro' in the headline. Oran, a Cairn Terrier, has been recruited to climb up all the Munros in Scotland, with his owner, all for charity. Oran and his owner, Chris Nelson, are determined to climb all 282 Munros in their efforts to raise money for Cystic Fibrosis research. So far, they've scaled 39.
Well, I won't be climbing any mountains, or hills for that matter, any time soon. My biggest challenge of late, was surviving the -20C temperatures perched on the outdoor, aluminium bleachers set up for the NHL 100 Classic between the Senators and the Canadians. I'm still shivering at the mere thought of the last hour of my latest effort to re-acquaint myself with Canadian ways. My eldest son, Chris, had the cruel inspiration of buying us beers for the last period – he's a Senators fan. I was surprised the froth didn't freeze!
In closing, I'd like to wish you all the heartiest of festive greetings. May you all enjoy robust health, exciting festivities and cosy recuperations this holiday season.

Slainte!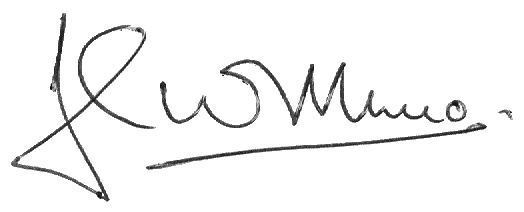 © The Clan Munro Association of Canada