In Memoriam: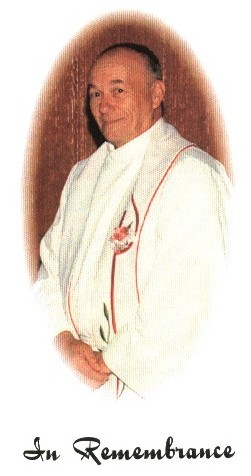 Rev. Ian Edward Munro
31 Dec 1929 – 14 Dec. 2000
Well known minister Rev. Ian Munro passes away at age 70 following illness
On Thursday, Dec. 14, Rev. Ian Edward Munro of Osoyoos, formerly of Oliver, Passed away peacefully at Sagebrush Lodge at the age of 70 years. Funeral services for the late Ian Munro were held Monday, Dec. 18 from the Osoyoos Christian Centre at with Pastor Don Schneider officiating. Interment will take place in the family plot in Clandonald, Alberta.
He will be sadly missed and lovingly remembered by his family including Gail, he devoted wife; his children, Greg (Dorothy) of Marmora, ON and Kevin (Kim) of Ottawa and Kimberley (Duane) Foley of Madoc, ON. Grandchildren include Tyler, Jenna, Justine, Jaime, Jessica, Samantha and Victoria; step-children: Jo-Anne (Jim) and Jason; as well as step-grandchildren, Curtis, Cameron and Anika; his sister and brother-in-law, Irene (Ian) Murray and their children, Robert (Elaine), Jeffrey (Jan) and Kathy (Skip) and their families.
He was predeceased by his parents, Rev. Hector and Sylvia Munro and brother Hector Jr.
Ian was born in Saskatoon on Dec. 31, 1929. The family moved to several places in Saskatchewan and Manitoba before coming to Nelson, BC. Following the end of the Second World War they returned to Saskatchewan.
After playing in an orchestra and working as a projectionist, Ian joined the Air Force in 1949 and trained as a communications technician.
He took discharge in 1954 and signed on with the London, ON, police force where he served for five years. He then worked as a car dealership service manager in London and drove truck. Ian then attended the University of Sudbury and Queen's University and obtained his Bachelor of Theology.
He also attended Sir George William University in Montreal; Garret Seminary in Illinois and St. Paul's University in Ottawa and earned his Master in Pastoral Studies. He taught for two years, ran for political office and served many charges for the United Church of Canada.
After 11 years in Alberta, Ian accepted a call to the Oliver/Osoyoos United Church Pastoral Charge. He left the United Church in 1990 and accepted the position of first minister of the Valley Congregational Christian Church until 1996.
Over the years Ian was actively involved with the Royal Canadian Legion, square dancing, a volunteer fireman, choir and concert director, Scouts Canada Commissioner, Rescue squad and the pastoral Care Association.
Ian's interest included poetry, reading composing music, gardening, ranching and riding, hunting, fishing and especially family.
In 1997 Ian was diagnosed with Alzheimer's disease and later dementia which he accepted with stoic faith.
From the Oliver Chronicle, 20 Dec.2000
Secretary's Note:
From the inception of Clan Munro Association of Canada in 1974 until his death, Rev. Ian was our Chaplain (P). He attended many meetings and gatherings and enjoyed the company and the wearing of his kilt. I especially remember his great sense of humour. J.T.